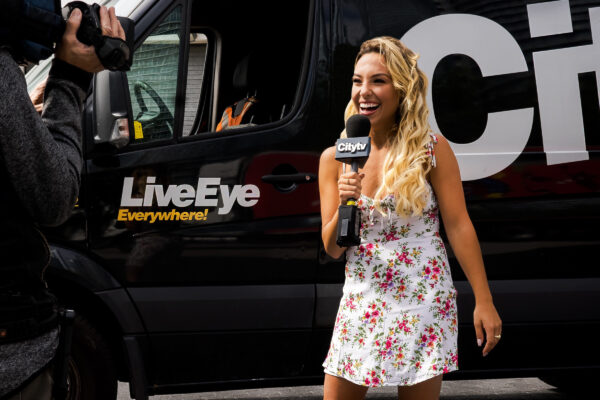 Goodbye BT
It was just over 2 ½ years ago that I joined the BT family as their Live Eye Reporter. This was my first go at live tv and I vividly remember that I had the "nervous sweats" (worse than regular sweats—trust me). It's amazing to look back and reflect on the hundreds of exceptional people that I have the opportunity and the great pleasure to meet, both all across Ontario and abroad. These experiences have allowed me to feel everything  from hysterical belly laughs, to compassionate tears, and most importantly a whole lot of joy.  From one on one conversations, to more large scale events, every encounter in this role big or small, meant everything to me! I poured my heart into every single one of them. Even at the onset of the pandemic, when all of us on live tv had to pivot to create content that really mattered to the viewers in such trying times, I felt incredibly blessed to connect with the community and stand solidarity with all of you. More importantly, I wanted to help kick off your day with a little light hearted joy and positivity.
I want to first and foremost thank the viewers. There are no words to express the gratitude I feel for you welcoming me into your homes every morning. Thank you to all of the memorable and inspiring individuals I've met along the way—YOU ALL have made this job one I'll never forget—the business owners, the tweets and messages, and those who said/ say hi when I bump into you on the street, thank you.
I want to thank the incredible team on the show—Dina, Devo, Steph, Mel, Frankie and Sid (even though you're the new guy). You guys welcomed me with open arms and supported me along the way. I learned so much, and continue to learn so much from you all.  Thank you for your endless love and support. Thank you to the team whose faces you don't see everyday—our producers, the control room, graphics, everyone on the floor, editors, and of course cameramen. Tracey—you are one in a million, my lifelong friend and other mom. Gaetan, where do I begin… he's the man you always see in my snaps, the hand you see waving in front of the camera from time to time,  my cameraman, my best friend and my "in case of emergency contact." Gaet, thank you for making me look forward to work everyday. I'll always be the daughter you didn't want or ask for haha
In all seriousness, I'm so excited for my next chapter and hope you'll follow along to see it unfold. The reason I wanted to be a reporter growing up was because I wanted to be the one to ask "the'" questions… to tell the important stories and shine a light on deserving individuals, and make people feel… I hope I did that.
A quote that I live by:
"I've learned that people will forget what you said, people will forget what you did, but people will never forget how you made them feel." —Maya Angelou